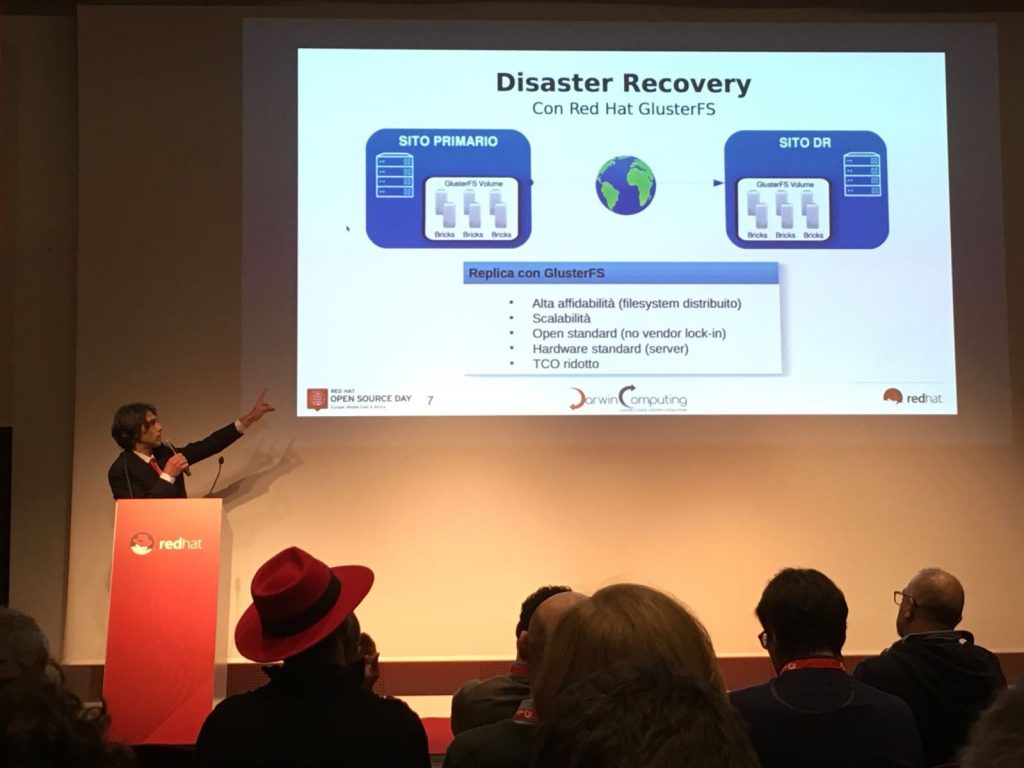 OPEN SOURCE DAY 2017: MILANO 7 NOVEMBRE, ROMA 9 NOVEMBRE
Darwin Computing è stata quest'anno Gold Partner al Red Hat Open Source Day di Milano e Roma. L' evento, importantissimo nel mondo IT, ha come obiettivo quello di offrire una vasta panoramica sulle soluzioni Open Source, sugli sviluppi futuri e sui vantaggi di innovazione sia strategici che economici apportati dal loro utilizzo.
Non solo, Darwin Computing è stata l'unico Gold Partner presente con la certificazione "Red Hat CCSP (CERTIFIED CLOUD AND SERVICE PROVIDER)" che offre ai clienti la garanzia che Red Hat abbia approvato le nostre soluzioni.
Come ogni anno, le tematiche trattate sono state molteplici ed hanno attirato moltissimi visitatori. Sono stati tenuti interventi su:
Cloud and Storage;
Security, Collaboration tool and Training;
Cloudify your applications: microservices and beyond a cura di esperti Red Hat;
Cloud a cura di partner Red Hat;
Modern App development & DevOps a cura di Partner Red Hat;
Linux and Container & Red Hat Consulting.
Proprio nell'ambito di Linux and Container & Red Hat Consulting si è focalizzata la nostra presentazione: "Disaster Recovery con Software-defined Storage ed infrastrutture iperconvergenti" a cura di Fabio Volpe, CEO dell'azienda.
Clicca QUI per scaricare la nostra presentazione!
Entusiasti per il successo delle due giornate e per l'interesse dimostrato presso il nostro stand, vi ringraziamo per la partecipazione e la collaborazione e vi diamo appuntamento al prossimo anno!